FAI Materials Testing Laboratory, Inc. (FAI)
is a full service
Analytical, Failure Analysis, and Materials Testing
laboratory that provides clients with the best explanation about why their materials, products, and components perform the way they do.
FAI is comprised of professional scientists, chemists, and engineers with decades of experience solving problems in a host of industries including Aerospace/Aviation, Automotive/Vehicle, Biomedical Device, Construction, Energy/Power, Manufacturing, Marine & Offshore, and Mining & Metals.
FAI's Services Include
:
Materials Testing - Identification, Dimensional Analysis, Flash Point, Viscosity, Density / Specific Gravity, Melt Flow Rate, Accelerated Aging
Failure Analysis - Root Cause, Failure Mode
Plastics Testing - Identification, Composition, Polymer Chemistry
Physical Testing - Tensile Strength, Compressive Strength, Flex/Bend Modulus, Izod Impact Force, Drop Testing, Coefficient of Friction, Hardness, Fatigue
Thermal Analysis - Thermogravimetry, Calorimetry
Chemical Analysis
Imaging Services
Quality Assurance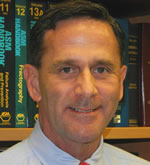 Jon M. Crate
is the founding President and CTO of FAI Materials Testing Laboratory. He received his bachelor's degree in Chemistry from University of Central Florida, his Master's in Polymers from the MSE Department of Georgia Tech and three years of postgraduate education in Molecular Cell Biology and Biochemistry at the University of Alabama in Birmingham.
Mr. Crate is a
Analytical Chemistry
and
Materials Failure Analysis
consultnat who is experienced and well versed in the chemical analysis and physical characterization of
Natural
and
Synthetic Polymers, Metals, Inorganic and Organic Compounds
, and
Composite Materials
. He has performed failure analysis on a wide variety of products and components including underground gas and water pipe, commercial aircraft tires, large equipment, rig, light truck, automotive and motorcycle tires, swimming pools and pool coatings, tank coatings, assault resistant commercial window laminates, numerous aircraft components, sailing vessel components, weapon system components, power generation equipment components, and medical devices including artificial heart valve.
Jon M. Crate is capable of designing and validating test and inspection protocols that will enable the determination of the causes of failure for a wide variety of products and components.
View FAI's Expert Witness Profile
.