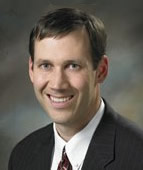 Scott J. Witt, FSA, MAAA
has over 18 years of experience as an
Actuary
in the
Insurance Industry
. He maintains the highest actuarial designations, FSA (Fellow of the Society of Actuaries) and MAAA (Member of the American Academy of Actuaries).
One of the nation's only fee-only life insurance advisors, Mr. Witt serves clients throughout the U.S. including attorneys, financial planners, individuals, banks, business owners, accountants, and trustees of insurance trusts. He is compensated on a fee-only basis, allowing him to serve in a true fiduciary capacity for his clients. Because he has no financial stake in the decisions his clients make, there is no conflict of interest in his recommendations.
Mr. Witt's litigation support services include expert analysis, reports, and testimony regarding a vast array of life insurance topics. He performs Monte Carlo simulations to demonstrate the impact of volatility on any statistical process. Mr. Witt has been retained multiple times as an expert for Plaintiffs and multiple times as an expert for Defendants in cases that were settled after the completion of his expert report and prior to his testimony. His services are also available for mediation and arbitration.
Areas of Expertise
:
Policy Suitability
Variable Life Analysis
Evaluation of Statements by Salespeople
Replacement Appropriateness
Life Settlement Decisions
Insurance Schemes
Damage Calculations

Policy Valuations
Insurance Appraisals
Insurance Bad Faith
Insurance Financial Analysis
Life Expectancy & Mortality
Risk Management
Marketing
Recent Case Sample
:
2010, French et al. v. Wachovia Bank, N.A., Case No. 06-CV-00869, US District Court, Eastern District of Wisconsin. Defense expert. Case alleged improper replacement of life insurance policies
2012, First Command Financial Services, Inc. and First Command Financial Planning, Inc. v. James S. Agostini et al., Cause No. 48-259234-12, 48th Judicial District, Tarrant County, Texas. Defense expert. Case involved insurer attempting to block agents from selling in same territory; involvement was focused on sales techniques and quality of permanent life insurance policies that were impetus for agents' departure
View Witt Actuarial Services, Inc.'s Consulting Profile
.
I recently worked with an elderly woman (who I will call Beatrice) to evaluate whether or not the variable annuity she purchased less than a year ago was a good buy.
---
When thinking about life insurance, consider three realities:
---
Wanting a second opinion from someone that doesn't have an inherent conflict of interest - independence is the single greatest asset that a fee-only insurance advisor brings to the table, and because such an advisor is only compensated directly for the advice given and not based on the decisions the consumer makes, there is not an inherent conflict of interest - those conflicts are evident with anyone that is compensated on anything other than a fee-only basis for the advice given.
---
Despite the best efforts of companies and agents throughout the industry, Long-Term Care insurance (LTC) policy sales have yet to blossom as much as the industry had hoped and predicted. As the Baby Boomers continue to move through the "sweet spot" of the target market for LTC, companies will no doubt redouble their efforts in pushing LTC. Two obvious questions arise. First, is LTC right for you or your client, given the particular financial circumstances, family circumstances, and family history? Second, even if it is determined that LTC makes sense, how do you wade through the myriad of companies and policy options that are available and determine the best fit?
---
Fee-only insurance advisors serve in a true fiduciary capacity for their clients, providing independent, unbiased advice. These advisors receive no other form of compensation other than the hourly fees paid by their clients. They do not receive compensation from insurance products that their clients may decide to purchase, nor do they receive any financial incentives from steering clients toward a particular agent or company. Other than providing clients with the most knowledgeable and expert advice possible, fee-only advisors have absolutely no vested interest in the insurance decisions their clients make.
---
Without an advocate that is looking out for their best interests, life insurance consumers are at the mercy of their life insurance agents and the companies they represent. Even the most well-intentioned agents suffer from an inherent conflict of interest, as agents derive their compensation from the products they sell. A closer look at a number of areas reveals how damaging this can be to life insurance consumers:
---
Do you reside in Garrison Keillor's fabled Lake Wobegon? Those who own a cash value life insurance policy probably do - and probably don't even realize it! In Lake Wobegon, "all the women are strong, all the men are good looking, and all the children are above average." And any life insurance policy purchased in Lake Wobegon is no doubt better than average as well!
---