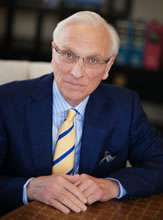 One of the best techniques for settling cases at mediation is to take a consultant or expert witness with you to the session or at least have them available by telephone. I have used this approach in many cases with considerable success. The manner in which this is done varies depending on the complexity of the case, the extent of the consultant's or expert's involvement and what disputes or unresolved issues depend on expert testimony.
Here are some examples:
In a insurance long term disability bad faith case, plaintiff suffered from a serious inflammatory bowl diseases. There were issues about the nature and extent of her medical problems, and the affect it had on our public defender client, who was frequently under the stress and pressures her courtroom and client work. Her gastroenterologist was several hours away from the mediation cite. We interviewed him on video for the mediation in a mini direct examination and offered the defense the opportunity to talk to him on the phone - with the interview protected by the confidential nature of the proceedings - to ask any questions for clarification. They did. The conversation lasted about 45 minutes, and the case settled well at the end of the day.
In a complicated tax shelter fraud case involving the use of life insurance in what was touted to be a legitimate tax free deferred compensation program, our life insurance consultant attended the mediation with us to help the mediator understand the case, and also evaluate the defense position, and also the settlement terms. It turns out the representative of the defendant and our consultant had a long time relationship of trust. That certainly helped in achieving a settlement. Even if that had not been the case, our consultant was invaluable in assisting us in getting to a settlement
In a wrongful death case involving an charming 25 year old eldest daughter of a Filipino family, we had two consultants - one a "all purpose" coordinating consultant on highway design and other issues (he helped coordinate and interpret the work of the those serving as expert trial witnesses), and another on the Filipino culture and the role of the family in that culture. The second expert was very persuasive on emphasizing the expectations of parents in that culture for the support of their children, particularly the eldest, as the parents grow older and less able to care for themselves. This was an important part of our case for economic and non-economic damages. Both experts were outstanding, and we got an excellent value for our clients in the settlement.
There are other example of how consultants and experts can be used at mediation. For one we often prepare a mediation video with 20-40 minute mini direct examinations of experts or consultants [even if the consultant is not going to be an expert trial witness] to explain our position or provide information to the defense about technical or medical issues in the case. We use consultants in some cases where there may be several expert trial witnesses eventually, but we use a consultant to address multiple expert issues. We have medical consultants who work with our firm who have broad knowledge and can provide an overview of the case without requiring us to call on several witnesses or treating physicians and incur that expense for the mediation. Sometimes the consultant will use the records and reports of the treating physicians or expert trial witnesses (if they have been obtained) to portray the issues and provide an analysis. Again, we use the protection of the mediation's confidentiality when these consultants are used. In most cases I get an agreement from the defense that we can bring this consultant to the mediation for this purpose and that the defense will honor the confidentiality protection. I have never had my opposition decline to accept this offer.
To me using consultants and experts at mediation is a very positive tool in specific cases in which there are medical or technical issues that need to be addressed. In doing so, we need to be efficient so the consultant who can be provide the overview who might not be suitable as an expert trial witness is an efficient and effective way to assist the mediator and your opposition in understanding your client's case.
---
Guy O. Kornblum has specialized as a Trial and Appellate Lawyer for 40 years. He has handled over 4,000 litigated matters to conclusion and has several million dollar cases to his credit. Mr. Kornblum has represented hundreds of clients, small businesses, individuals, and large Fortune 500 corporations during his 40 plus years of practice. He is highly regarded for his courtroom and appellate skills, and his representation of his clients in mediations, where he has a strong track record of successful settlements.

©Copyright - All Rights Reserved
DO NOT REPRODUCE WITHOUT WRITTEN PERMISSION BY AUTHOR.