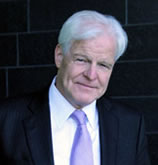 C. Thomas Vangsness Jr., MD
, is a board certified
Orthopedic Surgeon
, Chief of Sports Medicine at USC, tenured Professor of Orthopedic Surgery at the Keck School of Medicine at USC, and a team physician for USC Athletics.
Dr. Vangsness is internationally recognized for his expertise in
Shoulder and Knee Surgery
and has conducted and published extensive research with a focus on topics such as stem cell therapy to treat cartilage and meniscal injuries, shoulder and ligament biomechanics, and allograft transplantation. He specializes in the treatment and prevention of orthopaedic and sports-related injuries including:
ACL Reconstruction
Meniscus Surgery
Cartilage Repair and Restoration
Rotator Cuff Surgery
Shoulder Dislocations
A recipient of numerous university and national academic awards as a teacher and researcher, Dr. Vangsness is also on the editorial board of the
Journal of Arthroscopy
and
The Journal of Knee Surgery
. He is a member of several other prominent organizations including the American Orthopaedic Society for Sports Medicine, American Shoulder and Elbow Surgeons, and The International Society of Orthopaedic Surgery and Traumatology.
Dr. Vangsness did his orthopaedic residency at the Hospital for Joint Diseases, Orthopaedic Institute in New York and a fellowship in sports medicine at the Kerlan-Jobe Orthopaedic Clinic in Los Angeles. He also did a research fellowship in bioengineering at Hospital for Joint Diseases. Dr. Vangsness has recently published a book entitled
The New Science of Overcoming Arthritis
.
View Dr. Vangsness' Expert Witness Profile
.
When joint problems escalate to the point of needing special treatment, it is time to research orthopedic surgeons. As you consider your treatment options, it is important to choose an orthopedic surgeon who can accurately meet your needs. To ensure that you make the best choice, identify your needs, do your research, and ask the right questions.
---
C. Thomas Vangsness, Jr., MD
This book offers a plan for anyone who wants to prevent or reverse their pain, discomfort, and limitations. It is the first book on arthritis that incorporates the latest research and treatment strategies for a disease that the vast majority of baby boomers will inevitably have to learn to live with. What's more, it provides younger generations with an easy-to-follow game plan for minimizing and even avoiding the more debilitating aspects of arthritis.
---