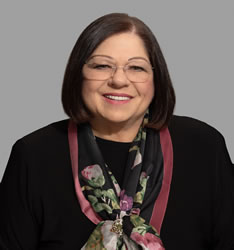 Rosemary Coates, President of Blue Silk Consulting, is a seasoned executive with an MBA and 25+ years of experience in Chinese Sourcing and Manufacturing, Supply Chain Management, Procurement, Manufacturing and ERP Systems Consulting. Background Experience.
Prior to BSC, Ms. Coates was a Senior Director at SAP, the Supply Chain Practice Leader at KPMG Peat Marwick and at Answerthink, and a Regional Manager at Hewlett-Packard. Ms. Coates has consulted with global and domestic clients, VCs, and PE firms on operations systems and processes. She has considerable international experience and has worked for extended periods in Asia and Europe.
Ms. Coates' experience spans a broad range of industries including High Technology, Software, Chemicals, Health Care, Consumer Products, Industrial Products, Food Distribution, Transportation, Publishing, Retail, and Oil and Gas. She has extensive knowledge and experience in manufacturing and outsourcing in Asia, Europe, and the US. She has written five Amazon.com books including Best Seller, 42 Rules for Sourcing and Manufacturing in China, and Legal Blacksmith: How to Avoid and Defend Supply Chain Disputes, and 42 Rules for Superior Field Service, and Negotiation Blueprint for Buyers, and The Reshoring Guidebook
Ms. Coates is also the Executive Director of the Reshoring Institute and a member of the Board of Directors at the University of San Diego Supply Chain Management Institute. She teaches Global Supply Chain Strategy at UC Berkeley. She earned a BS in Business at Arizona State University and an MBA at the University of San Diego. She resides in Silicon Valley.
Rosemary Coates: Supply Chain Management Overview
Litigation Support - As an Expert Witness, Ms. Coates has assisted attorneys in their understanding of relevant Supply Chain Operations and Practices in sourcing, logistics, distribution, manufacturing, inventory, and Chinese Imports. She has worked on legal cases for the past 10 years, writing reports, giving depositions, and testifying at trial.
Case Opinions:
Chinese Products
Import / Export Management
Counterfeit Imports
Project Management for Enterprise Software
ERP Software Consulting Implementation Failures and Runaway Projects
China Sourcing and Manufacturing
Securities
Sales Channel Distribution and Compensation
Supply Contracts
Inventory Tax
Global Manufacturing Operations, Contract Manufacturing, CMS, EMS
Transportation and logistics, 3PLs and Freight Forwarders, Freight Shipping
Areas of Expertise:
Chinese Products / Chinese Imports
Chinese Manufacturing
Chinese Toys
Chinese Plastics
Chinese Drywall
Electronics
Purchasing
Operations Planning

Inventory
Warehousing
Supply Chain
Distribution Channel
Manufacturing Operations
Field Service
Supply Contracts
ERP Systems Implementations
The way imported products are sold has drastically changed over the past few years. With the rise of eCommerce and direct shipments to U.S. warehouses and customers, more and more counterfeit products are slipping into the U.S. Owners of brands and intellectual property are losing billions of dollars in revenue every year to counterfeiters that are selling bogus products, often at the same price or only slightly less than the true brand.
---
"Economics is strategy." This phrase made me sit up and take notice. It was from an article in The American Interest about China's One Belt One Road initiative (OBOR). Of course, we knew that OBOR was all about economics. I have written about China's building influence around the world, but to simplify China's actions in this one impactful phrase makes it so clear.
---
Consider Otis Elevator. OE is one of many U.S. manufacturers, including GE, Whirlpool and NCR, which announced they were bringing factories back to the U.S. from China, Mexico and other countries and whose efforts did not go well.
---
Have you been keeping up with the "Amazon Effect" on supply chains? This effect is defined as the impact the digital marketplace has on the traditional business model in retail. But for supply chain professionals, it is so much more.
---
Rosemary Coates, et al
The first book of its kind, Legal Blacksmith explains how to optimize supply chain relationships, starting with marketing outreaches and supplier bidding through handling legal disputes when supply chain relationships fail. This book is for in-house counsel who want to better understand supply chain operations, and supply chain operations personnel who want to better understand the law that applies to their field.
---
Rosemary Coates
For business people who are experienced in doing business in China, or for first-time visitors, this book will provide valuable insights from real executives and experts. These executives offer their personal experiences and recommendations about sourcing and manufacturing in China.
---
Rosemary Coates, et al
Provides an understanding of holistic thinking and analysis based on multiple internal customer needs on the buy side and multiple stakeholders on the sales side.
---
Rosemary Coates
The guidebook will assist you with steps to a successful Reshoring project by taking you through various decision components one by one. You will find thought-provoking ideas, helpful exercises, and outlines for things you will be considering during your Reshoring evaluation.
---
Rosemary Coates, et al
Complicating field service operations in today's environment is the global nature of the installed base and where in the world your products and spares are manufactured. Sourcing global parts, managing the parts supply chain and the investment required are the things that keep managers up at night. This book provides 42 essential rules to benchmark and develop a global service business.
---