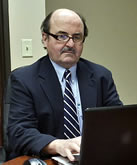 J. Clark Race, MD
, is Board Certified in
Orthopedic Surgery
by the American Board of Orthopaedic Surgery. Dr. Race has extensive experience and knowledge in the diagnosis and treatment of all orthopedic and musculoskeletal conditions. He has practiced orthopedics in Austin, TX for over 30 years.
Dr. Race received his medical degree from the University of Texas at Galveston and completed his residency in orthopedic surgery at the University of Texas Health Science Center in Dallas, Texas. He was named one of America's Top Orthopedists in 2010 by Consumer's Research Council of America, as well as one of the Leading Physicians of the World by the International Association of Orthopaedic Surgeons.
Litigation Support
- Dr. Race has been providing consulting / expert witness services to the legal and insurance industries for 30 years. He is currently an Orthopedic Consultant for the Texas Department of Rehabilitative Services and a Certified Designated Doctor for the Texas Department of Insurance, Workers Compensation Division.
Dr. Race has extensive knowledge of the application of evidence-based guidelines. His expertise is available to counsel representing both Plaintiff and Defense. He has been deposed and/or testified over 50 times. Dr. Race's services include Independent Medical Exams (IMEs), Medical Record Reviews of all orthopedic conditions, Maximum Medical Improvement / Impairment Exams, Orthopedic Rehabilitation Planning, and Disability Evaluations.
Dr. Race has expertise in the treatment of numerous orthopedic problems, including fractures, traumatic injuries, reconstructive surgery, and common problems of the:
Neck
Back
Shoulder
Elbow
Wrist

Hands
Hips
Knees
Ankles
Feet
View Dr. Race's Consulting Profile
.