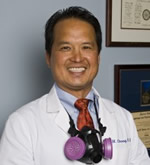 Hung Cheung, MD, MPH, FACOEM,
President of Cogency Environmental, has more than 20 years of experience and is a nationally-recognized expert in
Respiratory Environmental Medicine
, Legionella Outbreaks, Environmental and Toxiological Investigations, Risk Communication and Medical Advisory Services.
A former Maryland State Medical Director, he teaches at the Johns Hopkins Bloomberg School of Public Health and is faculty to the Occupational and Environmental medicine program at the University Of Pennsylvania Perelman School Of Medicine. Dr. Cheung also teaches AIHA (American Industrial Hygienists Association) webinars on the topic of Legionella nationally. Board Certified in both Internal Medicine and Preventive Medicine, he holds a Master's in Public Health from Johns Hopkins and has a medical degree from the University of Maryland.
Dr. Cheung has extensive experience working on issues of
Indoor Environmental Quality
on matters related to molds, microbial, chemical, and other contaminant exposures in commercial buildings, manufacturing plants, schools, and various public and residential facilities. His philosophy is a preventive medicine approach, i.e., to design, educate and prevent occurrence or reoccurrence of exposures, injuries and illnesses by determining the root cause(s) of environmental diseases, injuries or accidents and developing a plan of action for resolving the problem.
Litigation Support
- Dr. Cheung provides litigation support services to counsel representing both Plaintiff and Defense. His services include clinical evaluation, diagnostic testing, environmental testing, site inspections, sampling, research development and hypothesis testing, modeling, risk communication and town hall meetings, and expert testimony when necessary.
Environmental and Occupational Health Areas of Expertise
:
Asbestos, Lead, Benzene
Various Chemical Agents / VOCs / Solvents
Mercury / Heavy Metals
Metal Washing Fluids
Smoke Inhalation Injuries/ Air Pollution
Mold / Microbial Contamination
Indoor Air Quality / Sick Building Syndrome / Chinese Drywall Investigations
Innate Immunity / Infectious Agents
Legionella / Outbreak Investigations
Cancer Cluster Analysis
Epidemiology / Research Methods
Physical or Mental Impairments
OSHA Regulatory Compliance
Crisis Response
Dr. Cheung on New York Legionnaire's Disease ABC2 News
View Dr. Cheung's Consulting Profile
.