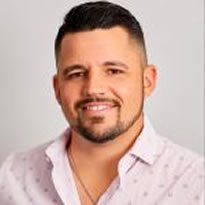 The vast majority of Medicare beneficiaries pay the same for certain parts of their Medicare coverage. However, in some cases, the costs can vary. Today we'll discuss the costs of Medicare for high-income earners. We'll discuss how Medicare determines if you'll have to pay more. Next, we'll cover the 2022 adjusted costs that could be assessed. Following that, we'll cover who is eligible to appeal and the appeals process.
How Does Medicare Determine if you're a High-Income Earner?
Medicare looks at your most recent tax return to determine where you lie on their modified adjusted gross income or MAGI. The MAGI is calculated using your adjusted gross income as well as your tax-exempt interest income. Medicare uses an Income Related Monthly Adjusted Amount (IRMAA) to determine where you'll fall on the sliding scale.
Every year Medicare adjusts its IRMAA guidelines. There are two parts of Medicare affected by IRMAA. Part B and Part D have IRMAA guidelines you can use to estimate your increased cost. Your premium will be increased by 35%, 50%, 65%, 80%, or 85%. This will depend on where you fall on the sliding income scale.
Medicare Part B IRMAA
IRMAA is determined by the most recent tax return and gets reassessed every two years. Depending on if you are filing married or single, determine the threshold. The chart shown below will show you what the limits are for 2022.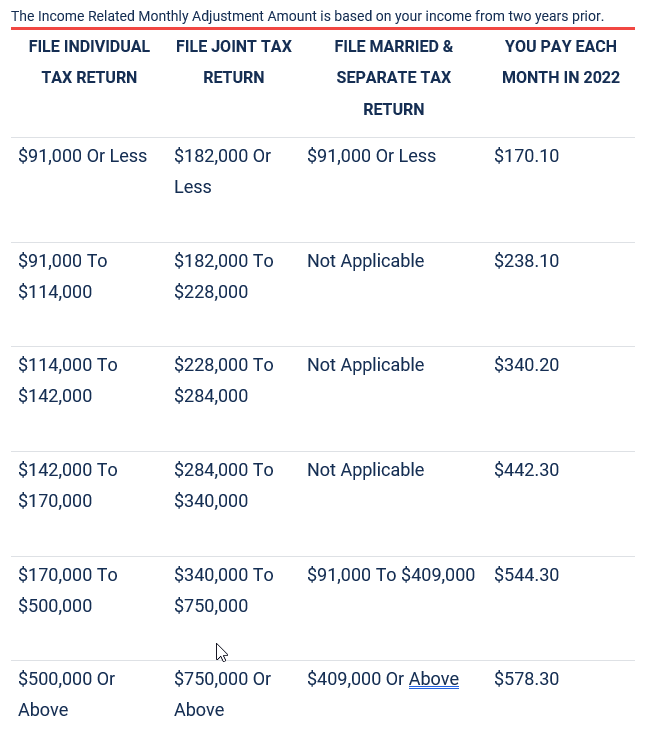 Medicare Part D IRMAA
Medicare Part D uses the same income limit numbers. All Part D plans have different monthly premiums. Because of this, a dollar amount is added to the monthly premium amount based on where you fall on the IRMAA chart. Part D IRMAA chart for 2022 is shown below.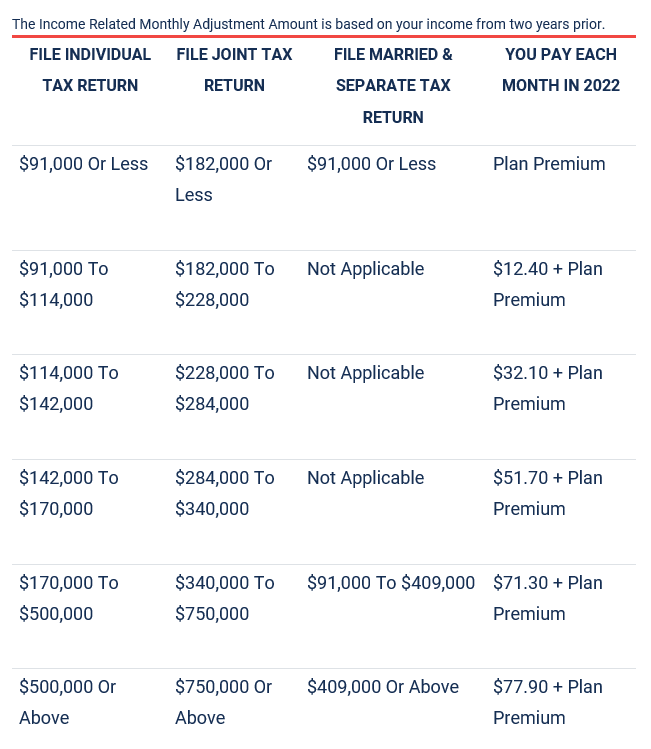 How Will I Know if I'm Assessed an Adjusted Medicare Premium?
If Social Security determines you are responsible for a higher premium, they will notify you by letter for any year that it applies. The letter is referred to as the Initial Determination letter. This letter will provide income information, how much you'll pay, and how it affects your social security benefits.
Can I Appeal the Decision?
You can appeal the decision if you feel like the decision is incorrect or have had a life-changing event. Included in the Initial Determination letter are the instructions and process to appeal the adjusted premium amounts.
You can request a new Initial Determination if you think Social Security has outdated information or if any of these life-changing events apply to you.
Life-changing events include the following:
Divorce
Marriage
Death of a spouse
You or your spouse stops working or reduces the number of hours
Loss of pension
Receipt of a settlement payment from a former or current employer due to the employer's bankruptcy or closing
To file the request, you must provide an amended tax return to the IRS if you feel like the information is outdated. If you are appealing due to a life-changing event, you'll send the IRMAA Live-Changing event form.

Help With IRMAA Determinations and Medicare Coverage
In conclusion, high-income earners will likely pay more for their
Medicare
. The amount is determined by how much you're making. If you need more information or help with coverage or questions about your Medicare adjusted costs, consider contacting a licensed
insurance broker
specializing in Medicare. They can help find your options to ensure you're protected and maybe a plan that can offset some of that cost.
---
Craig Strugill is currently the co-founder and chief strategy officer at Excel Impact. He is well-known within the insurance industry for his innovative thinking and strategic approach, specializing in lead generation and internet advertising for multiple products including Medicare, Health, Home, Auto, and Final Expense life insurance. Mr. Sturgill is a leader in entrepreneurship, having started his own business while still in high school and growing not just one, but three full-fledged companies by the ripe age of 27.
©Copyright - All Rights Reserved
DO NOT REPRODUCE WITHOUT WRITTEN PERMISSION BY AUTHOR.