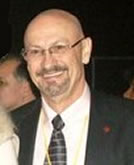 Gregory J. Cahanin, CP
works in the Fire Protection Engineering field. Over 40 years of experience in the application of sound engineering principles work to produce results in litigation cases. He is nationally recognized as a
Life Safety and Fire Protection
expert. He performs fire origin and cause, fire alarm, fire sprinkler, kitchen suppression, fire wall and compartmentation failures, and slip and fall forensic investigations.
Gregory J. Cahanin Fire & Code Consulting
has been based in St. Petersburg, FL for over 25 years.
Background
- Mr. Cahanin served as a Senior Life Safety Engineer with the National Fire Protection Association (NFPA), the organization that writes Fire Protection Codes and Standards. He was staff liaison for building construction standards and the Fire Prevention Code. Special project work included support of the International Division of NFPA in a survey of fire protection for all oil production facilities of LaGoven SA in Venezuela; an evaluation of the existing airport terminal in Rio De Janeiro, Brazil; and a code comparison study for the National Institute of Building Sciences. Mr. Cahanin investigated multiple fatality fires for NFPA and his reports are nationally published and peer reviewed. Mr. Cahanin holds Professional Grade Membership in the Society of Fire Protection Engineers. Mr. Cahanin has earned three undergraduate degrees in Fire Science and Fire Protection and a Master in Public Administration.
Litigation Support
- Mr. Cahanin regularly testifies in fire cases offering opinions on the origin and cause of fires in addition to component failures in construction, fire sprinkler systems, kitchen suppression systems and product failures. He is nationally published on fire protection requirements in the building code as a contributing editor on the 2006 edition of the International Building Code (IBC) Commentary where he edited the sections on fire-resistance rated construction. He currently serves on code committees with both the NFPA and ICC. Mr. Cahanin holds a NALA paralegal certification and is well versed in Civil Procedure, interrogatory, expert report writing, and trial procedures.
Mr. Cahanin meets the professional qualifications of NFPA 1033, Standard for Professional Qualifications for Fire Investigator as documented in a Florida Declaratory Statement held by no other fire expert in the state of Florida.
Investigations of note include the Warwick. R.I. Station Nightclub Fire in 2003 with 100 fatalities. In Wyatt v. Security Alarms Co., Inc. key testimony on the failure of a Viking automatic fire sprinkler established a product liability that resulted in a $1.4M dollar jury award for Wyatt in Oklahoma.
Mr. Cahanin's services are available to plaintiff and defendant attorneys. Case work can include site investigation, materials testing, thorough reporting, depositions, and trial testimony.
Areas of Expertise
:
Fire Origin and Cause Determination
Kitchen Fire Suppression Systems
Fire Hazard Analysis
Fire Sprinklers
Fire-based Construction Defects
CPVC Sprinkler Pipe Failure

Fire Walls and Compartmentation
Life Safety Egress & Compliance
Fire & Building Code Compliance
Explosion Analysis and Cause
Fire Alarm Failures
Walking Surface Slip Trip & Fall
View Cahanin Fire & Code's Consulting Profile
.