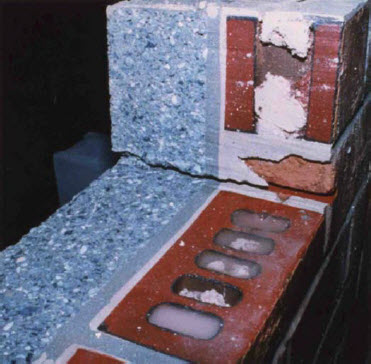 PROJECT
Grout Injection Feasibility Study
Baltimore, Maryland
CLIENT
Clayford T. Grimm PE, Inc.
Austin, Texas
Right: Injected grout (dark colored material) fills empty collar and head joints.
PROJECT DESCRIPTION
A six-story condominium building was constructed using load-bearing, concrete masonry with a clay brick masonry veneer. Specifications required that the collar joint be filled during construction; however, the contractor built the masonry without grouting the collar joint. Subsequent negotiation determined that the masonry must be reconstructed with a filled collar joint. Atkinson-Noland & Associates developed an alternative cost-effective solution where empty collar joints were filled by injecting a fluid grout into the empty joints instead of demolition and reconstruction of deficient masonry.
Sample panels were constructed to be representative of in-place construction. An injectable grout with appropriate fluidity and strength was developed and injected into the voids in the sample panels. Following injection, grout penetration was verified by nondestructive tests and visual observation of saw-cut panels. The injected grout showed excellent penetration, completely filling all cavities and unfilled joints.
SERVICES PROVIDED BY ATKINSON-NOLAND
Grout mix development
Specification of injection equipment and procedures
Training of grout injection personnel
Project quality control
Ultrasonic pulse velocity testing for verification of grout penetration
---
Atkinson-Noland & Associates, Inc. (ANA) has provided structural engineering services for federal, state, and private organizations since its founding in 1975. The unique organization of the firm strives to balance a commitment to innovative research and development goals with direct application to problems in the field. The experience and education of their professional and support staff provides a strong capability for handling difficult and challenging material and structural engineering problems. Through ongoing research and practice, the firm has established itself as one of the foremost international authorities on both historic and modern masonry structural systems.

©Copyright - All Rights Reserved
DO NOT REPRODUCE WITHOUT WRITTEN PERMISSION BY AUTHOR.