Every year, there are approximately 6000 fatalities (6227 in the year 2018) and many more serious injuries to pedestrians and bicyclists from vehicles in the USA. More recent data1 show that these numbers have increased by 45% since 2009. These trends have varied over the years but injuries and fatalities to pedestrians and cyclists from automobiles remain a serious issue.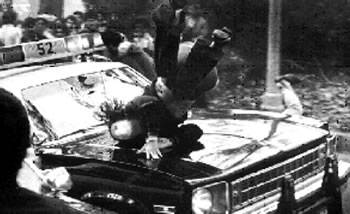 In order to address this and to reduce these injuries and fatalities, it is necessary to (1) reduce the probability of such accidents, and (2) reduce the severity of the impacts when these accidents happen. The first step requires that appropriate traffic rules and infrastructures be implemented to increase the separation between vehicular traffic and other road users. The second step is to investigate designing vehicles' front ends to reduce the severity of impacts when they happen. This is discussed here.
The Law
Currently, there is no law in the USA governing the structural design of road vehicles for reducing pedestrians' injuries. In the early 80s, an Advanced Notice of Proposed Rulemaking (ANPRM) was issued by the National Highway Traffic Safety Administration (NHTSA) but was cancelled. However, several other countries (Japan, European countries, etc.) have had such laws in place (as described in www.unece.org/trans/main/ wp29/wp29wgs/wp29gen/ wp29registry/gtr9.html) which mandate that certain tests be conducted and that vehicles meet specified performance criteria in these tests.
These tests represent (a) head form of an adult and of a child, striking designated parts of the vehicle's upper front; and (b) adult leg forms impacting lower front surfaces. In order to comply with these requirements, the vehicle manufacturers have to implement designs which: (a) control the structural stiffness of the components in the impact zones (hoods, fenders, headlights, etc.); and/or (b) provide adequate 'crush space' underneath the surfaces struck by the impactors. It is also possible that, instead of providing crush space, the manufacturers may meet the law by installing 'active systems' to 'pop up' the hood by a certain amount when impact on the hood is detected, thus creating a crush space when needed. The other available option is to install 'hood airbags', also deployed when an impact is detected by onboard sensors, thus reducing impact-induced forces on the pedestrian's head.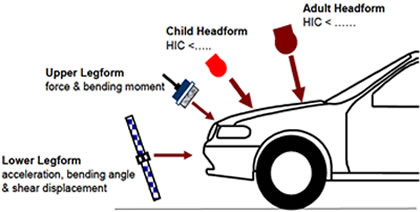 Accident Statistics: Pedestrian Fatalities and Incapacitating Injuries
Distribution with Age:
According to a study published3 some years ago, the distribution of the number of vehicle crashes with cyclists and pedestrians shows a 'bimodal' trend - (1) sharper peak for children and young adults, and (2) distributed peaks for older adult population.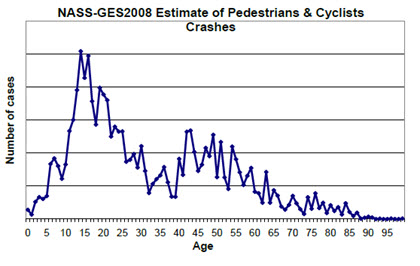 A similar analysis of the number of fatalities and incapacitating injuries among pedestrians showed similar trends. This implies that, when studying countermeasures for injury reduction, both these population groups must be taken into account.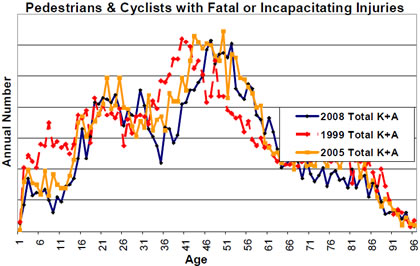 Research on the Effects of Vehicle Design on Pedestrian Injuries
It is known that the front-end (and other) structural components of an automobile are designed to meet multiple requirements for protecting its occupants in various crashes and adding the requirements for pedestrians' protection may appear to be a conflict. However, the crash energies in pedestrian and cyclist impacts are much lower than those involved in protecting the vehicle's occupants in accidents. Thus, it may be possible to decouple the 'structure design domain' for these two categories. Generally, the parts likely to affect a pedestrian's impact severity are the outer surfaces (such as the hood, fenders, pillars, frame around the windshield etc.) and components (such as antenna, headlights, etc).
---
Dr. Mukul Verma, is a well-known expert in Automobile Safety and Crashworthiness, Vehicle Structures, Product Design, and Statistical Analyses of Traffic Trends and Regulations. He has worked in many engineering and management positions at a major automobile manufacturer including assignments in R&D, vehicle design, analysis and testing and engineering program management.

©Copyright - All Rights Reserved
DO NOT REPRODUCE WITHOUT WRITTEN PERMISSION BY AUTHOR.