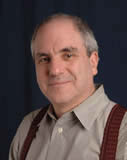 Lawrence Amsel, MD, MPH
, is Board Certified in
Psychiatry and Neurology
. An Assistant Professor of Clinical Psychiatry at Columbia University College of Physicians and Surgeons and an Attending physician at New York Presbyterian Hospital in New York, NY, he specializes in:
Evidence Based Psychotherapy for Anxiety Disorders
PTSD
Psychological Sequelae of Terrorism
With an MD from Yale University and an MPH in Biostatistics from Columbia University, Dr. Amsel combined his clinical expertise with his analytic mathematics background to become one of the early champions of the application of
Decision Science, Game Theory, and Behavioral Economics to Psychiatric Research
.
Dr. Amsel has published numerous articles and delivered presentations, symposia, and workshops on Behavioral Economics and Game Theory and other topics on Mathematical Psychiatry. His speaking services are in demand both nationally and internationally.
Dr. Amsel will contribute to the proposed study, "Adolescent and Family Decision Making In Time of Disaster," as Co-Principal Investigator and will serve as the team expert on decision tasks, helping to incorporate the selected tasks into the overall study design. He will be involved in supervising the collection of data related to these tasks and will help guide study design, data collection and analysis, and assist in the interpretation and publication of research findings.
In 2003, Dr. Amsel organized the first ever American Psychiatric Association symposium on applications of Game Theory to psychiatry. He has published articles and presented posters on Game Theory modeling of suicide, OCD, and PTSD.
After 9/11, Dr. Amsel joined the Trauma Studies and Services division at the New York Psychiatric Institute, and has been involved in treating victims of 9/11 and their families, in training community clinicians in cutting edge treatments for PTSD and Complicated (Traumatic) Grief, as well as in doing research on optimal methods of disseminating this training.
Over the last several years, Dr. Amsel has been collaborating with Dr. Hoven at the Child Psychiatric Epidemiology Group (CPEG) working on understanding the connection between decision deficits, trauma and psychiatric disorders in the developing brain of children/adolescents. He has extensive clinical expertise within psychiatric research, as well as expertise in applying decision science tasks in psychiatric research settings.
View Dr. Amsel's Expert Witness Profile
.