*Enter State Names or Abbreviations. Use space to separate multiple states e.g. CA Washington NY
Mechanical Product Liability Consultant John Ryan
John L. Ryan, BSME, PE
Business Headquarters:
PO Box 7
Poncha Springs, CO 8142
Offices in: CO, MI, AR, USA
phone: 855-627-6273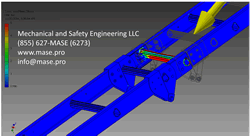 John L. Ryan, BSME, P.E. of Mechanical and Safety Engineering (MASE), is a Mechanical Engineer who provides general and specialized Mechanical and Structural, and Design Engineering Consultation Services. He is knowledgeable and dedicated to increasing the efficiency of the manufacturing process by reducing material costs and trimming unnecessary material while ensuring structural integrity.
Mr. Ryan's Engineering services include the designing of pressure vessels, buildings, HVAC systems, and mechanical machine components. He is available to perform accident reconstruction, identify product defects, guard machine hazards, develop product warnings, do destructive and nondestructive testing, and design and construct factory automation robotic machines.
John L. Ryan is a noted author in his field of expertise having published 8 books and written several Safety Engineering articles. MASE has branches in Arkansas and Michigan, and also provides engineering expertise to clients located around the country.
Consulting Specialties:
Finite Element Analysis
Product Development
Factory Automation
Industrial Safety
Alternative Energy Engineering
Industrial safety
Structural Engineering
Safe Use Training for Personnel
Tree stand accidents occur frequently during hunting season, causing a variety of injuries from broken bones to paralysis and death. Tree stand accidents involve a variety of causes, including falls from the tree stand, collapse of the tree stand, fires, self inflicted gunshot wounds, and asphyxiation. A study by the Center for Disease Control examined hunting accidents from 1979-1989. 214 of 594 deer hunting related accidents involved tree stands. 52% of these tree stand accidents were due to falls from the stand, 32% were due to collapse of the tree stands.
---
This issue of Forensic Clues is the second installment of an examination of ladder accidents. Last month we explored stepladders, this month we will be discussing extension ladders. Ladder accidents are a very common occurrence. Over half a million people annually seek medical attention due to ladder accidents. Over three hundred people are killed yearly in these often preventable accidents. This is a serious problem.
---
Ladder accidents occur frequently, often with very serious consequences. Ladders are tools that people use repeatedly, at home and on the job. The CPSC (Consumer Product Safety Commission) states that there are more than 164,000 emergency room-treated injuries annually due to ladders in the United States.
---
The nursery rhyme involving Humpty Dumpty is a child's first lesson in safety. What would keep Humpty Dumpty safe as he is sitting on the wall? A warning or a railing?
---
The Bureau of Labor Statistics estimates that between 1,600 and 2,000 amputations occur annually due to power press operation. Another 18,000 people receive less serious injuries annually. Injury statistics compiled by OSHA for the years 1975 through 1983 confirm these figures. These numbers are alarming and unnecessarily high. Power presses can be used safely when the presses are properly designed to minimize the hazard that the operator is exposed to.
---
Every year there are thousands of debilitating injuries and deaths on farms. Many of these are related to power take-off's (PTO's). PTO shafts are used to power various farming implements, from mowers, hay balers, augers, and many other types of farming machinery. The PTO shaft was invented in the 1930's. The PTO shaft is essentially a shaft powered by the tractor engine that rotates at high speeds, providing power for a wide array of implements. While this provides a convenient source of power to drive farm implements, serious accidents can occur due to entanglement in PTO's. PTO's must be properly equipped with guards including master shields which covers the stub shaft and universal joint. These shields prevent inadvertent contact with the rotating machinery. Contact with unshielded rotating PTO parts can instantly pull a person into the PTO, causing catastrophic damage.
---
Rock and ice climbing have become increasingly popular in recent years. Climbing is now a popular form of exercise and adventure, and a great way to enjoy the outdoors. Unfortunately the greater numbers involved in the sport has led to greater number of accidents. Climbing gyms have brought climbing to areas without outdoor rock resources. These indoor gyms use artificial holds to simulate rock walls. Indoor climbing gyms typically have climbs ranging from twenty feet to fifty feet, or more. Bouldering areas are shorter in height, with adequate padding to protect climbers from falls without the need for ropes.
---
While many accidents involving products are the result of a product defect that leads to injury of the product user, accidents can also be the result of a failure caused by lack of maintenance or inspection. This issue of Clues will examine the theory behind failure to maintain accidents, as well as provide examples of common accidents that are due to a lack of maintenance.
---
Material science is a broad field that has applications in numerous fields. In product injury cases, material science can help identify defects, determine causes of accidents, determine failure modes, and identify inconsistent manufacturing processes.
---
No one likes to see children get hurt, especially when it could be prevented. Poor design, manufacturing defects, material defects, assembly errors, and the lack of a hazard analysis can result in hazardous products that injure people. Many products are put in stores that may have never been looked at by a design engineer and/or a safety specialist.
---
Fishing and boating accidents result in thousands of injuries each year. The U.S. Coast Guard reported 3331 injuries and 709 fatalities due to boating accidents on both recreational and commercial vessels. There are many causes for these accidents, including collisions with objects or other vessels, drowning, electrical and mechanical failures, interaction with unguarded machinery, and others. There are various acts and laws that govern accidents at sea. This issue of Forensic Clues will examine some of the preventable accidents caused by defective machinery and equipment that occur at sea, and a brief overview of the laws and regulations affecting product liability litigation related to maritime accidents.
---
Paintball is a fun activity for all ages, and can be a safe sport if proper precautions are made. Serious eye injury can occur if a paintball impacts the eyeball, making goggles and facemask a requisite part of paintball. Accidents happen in backyard paintball games most frequently, but also at commercial paintball operations. This Clues will examine the typical preventable paintball accidents, as well as examine product failures that can lead to accidents while playing paintball.
---
Accident reconstruction involves attempting to determine the sequence of events of an accident and is a crucial part of product liability cases. Understanding exactly what occurred in an accident gives an engineer the best chance of preventing the accident from occurring again. Often there is limited information to base conclusions on what really happened in an accident. Understanding what goes into accident reconstruction will help attorneys understand what information is crucial to this process. Witness testimony is unreliable at best but must be analyzed and cross referenced with the other available information.
---
Lawnmowers cause over 50,000 emergency-room visits every year, based on NEISS data on consumer product injuries. These injuries are distributed evenly between ride-on and walk-behind style mowers. The necessary cutting action of a mower results in an inherent hazard, until technology is developed that can cut grass but not living tissue. While various safety advances over the years have reduced the amount of injuries, the extremely high number of accidents related to mowers that continue to occur show the need for further enhancement of product safety.
---
Machine guarding accidents cause many accidents and fatalities every year, despite the availability of modern safety technology. In the years from 1992-1996, one study from the Bureau of Labor Statistics (BLS) reported annual injuries due to workers being caught in machinery of 34,350. In 2012 contact with an object or equipment had the second highest workplace fatality rate at 712 deaths.
---
OSHA was created through the Occupational Safety and Health Act of 1970. OSHA's mission is to ensure worker safety by creating and enforcing safety and health standards. OSHA does many good things to help maintain a safe workplace, but manufacturers often try to hide behind the shield of OSHA, putting blame on an employer for unsafe machinery or working conditions, when often the machinery was never safe to begin with. Some standards promote safety and some standards protect the manufacturer from product liability law suits. Most industrial standards are voluntary, unless they are specifically referenced in a Code of Federal Regulations / OSHA standard. OSHA standards are Federally mandated and are enforced by the Federal government.
---
Stored energy is accumulated energy, which can release suddenly, potentially causing serious injury or death. Stored energy has many forms, including pressurized gases and liquids, stored mechanical energy, stored electrical energy, and gravitational potential energy. Stored energy is particularly dangerous because the hazard still exists when the original source of energy is removed. This issue of Clues will explain the various forms of hazardous stored energy, how these energies can cause damage or injuries, and how to prevent stored energy accidents.
---
Table saw accidents occur frequently, often resulting in serious accidents when the operator comes in contact with the saw blade. The difficulties in guarding table saw blades with conventional guarding techniques often leads to ineffective guards that are removed by saw operators due to their lack of function and flexibility.
---
A significant number of elderly persons experience falls every year. In 2010, 2.3 million nonfatal fall injuries involving elderly people were treated in emergency rooms around the country. In the same year, 21,700 elderly people died as the result of unintentional falls. Falls for elderly people are extremely hazardous as they may not recover from fractures and other injuries.
---
Product Liability Reform has affected many attorneys, consumers, and experts negatively while failing in its goal of greater American competitiveness. This issue of Forensic Clues is dedicated to addressing the problems of tort reform, how this affects you, and what you as an attorney can do to reduce your costs and increase your chances of a successful product liability case, assuming that the case involves a legitimate product defect.
---
A recent failure of a ski lift in Wisconsin has received much media attention. While accidents such as these are rare, they do occur. Much more frequent are accidents involving collisions with other people or objects. This issue of Forensic Clues will examine the types of accidents that occur on the mountains.
---
Powered winches are in use in a variety of applications, some of the most common include vehicle-mounted electric winches, marine vessel winches, marine recovery winches, industrial winches and chain hoists. Accidents occur in all types of winch uses.
---
Between 1982 and 1996, 2,795 people died riding all-terrain vehicles, ATV's. This was found in a study by the U.S. Consumer Product Safety Commission (CPSC). Over thirty percent of the riders killed were under the age of sixteen.
---
In 2007, an estimated 15,147 lives were saved from seat belt use. Seat belts save five times more lives than airbags, according to statistics released by NHTSA. Seat belt use has increased over the years, due to cultural trends, and possibly due to the enactment of seat belt use laws. Seat belt systems do not always function as predicted. Seat belt systems can fail during a collision, often resulting in serious injury or death to the vehicle occupant.
---
Farming is a dangerous occupation. Tractor rollover accidents have been killing people since the 1920's. In 1990, the National Safety Council estimated 460 people were killed while operating tractors. Tractor rollover caused 239 of these fatalities. Another estimate suggests a more conservative number of annual fatalities - 132, that are the result of tractor rollover accidents. In a four-year period in Pennsylvania alone, 72 people died as a result of tractor rollover accidents.
---
Automobile collisions result in damage to property and injuries to people. Compensation is sought through insurance claims, law suits, and product liability claims. Knowing when injuries are more or less severe than is warranted by the damage level involved in the collision is important information. This can help people involved on both sides of litigation or settlements.
---
Warning labels are an indelible part of our society. Warning labels are everywhere - on our food, on our drinks, on our sweeteners, on our cars, on our tools, on our cigarettes. As consumers we are constantly barraged with multitudes of warnings, cautions, don't do this's, don't do that's.
---
Safety Engineering Resources has had the opportunity to learn a great deal about using fiberglass in structural applications, which are simply applications that must support some sort of load. Using fiberglass as a structural material was brought about by the advances made by organic chemists in recent decades in the field of plastics.
---
The Occupational Safety and Health Administration (OSHA) estimates that approximately 95,000 injuries occur each year due to forklifts.
---
Two and a half million rear-end collisions occur every year. Rear-end collisions are usually caused by driver inattentiveness.
---
Structural failures of buildings range from catastrophic building failures involving mass loss of life and/or property to structural problems such as sagging floors or ceilings, leaning walls, cracking or sinking foundations.
---
Golf cart accident frequency has increased dramatically over the last 20 years. A study by Watson, Mehan, Smith, and McKenzie (Golf Cart-Related Injuries in the U.S., American Journal of Preventative Medicine, 2008) of NEISS data found 147,696 people were treated in emergency rooms for golf cart accidents between 1990 and 2006.
---
Knowing when a personal injury case is due to the action or inaction of another party, or when responsibility falls fully on the injured party, can be a difficult distinction to make. At Mechanical and Safety Engineering, we have been investigating personal injury cases for decades.
---
Related
areas of expertise